Getting Started on OpenCourses
Computer hardware and software recommendations
What can I find on my user dashboard?
The default home page when you log in to 
OpenCourses
 is your user dashboard. Once you are logged in, you will see a (1) navigation panel on the left side, (2) a search box, and a (3) "Course overview" block in the center of the page. This "Course overview" block displays all courses in which you have been assigned the role of Course Director or Teacher.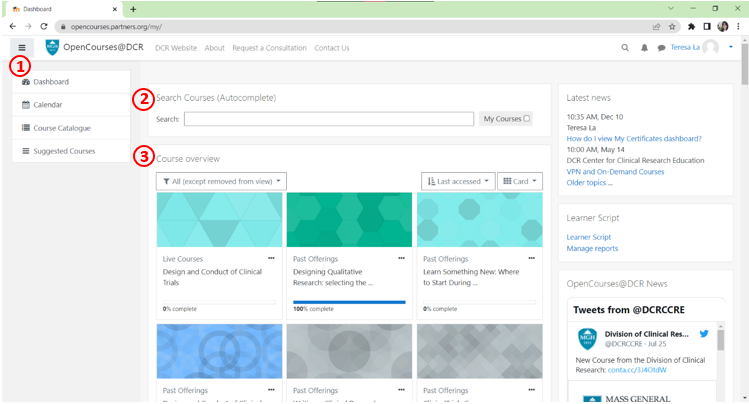 How can I access my course?
You can access your assigned courses from the "Course overview" block in your dashboard. Alternatively, you can also search for your course using the search box.
What can I find on the course page?
All courses follow a generic layout and structure. You can use the (1) left navigation panel to navigate to different sections of your course or return to your dashboard. You can find (2) course materials, activities, session links, and resources in the center column of the page. The far-right column of the page consists of the (3) course rating block, which is used to collect feedback and ratings.